Yin Yang Hearts, Wood Wall Decor Art, Wooden Hearts, Yin Yang Symbol Art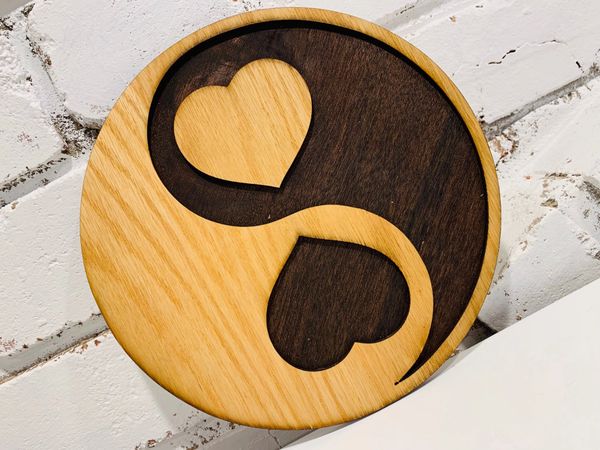 Yin Yang Hearts, Wood Wall Decor Art, Wooden Hearts, Yin Yang Symbol Art
In a finished two tone light oak wood veneer, using dark walnut stain and a light maple stain makes up this 3D Yin Yang Hearts Wall Art Decor, display on a firewood mantle, or on a wall. The round Yin Yang Hearts is intricately laser engraved to the finest of all detail.  The Yin Yang Hearts wall art measures 8" Diameter x 4mm thickness.   The Yin Yang Hearts in the pictures shown reflect the 8" size,  however we do offer 10", 12", 14" and 16" as well. 
Custom Engraving is Available on the Back Side of the Yin Yang Hearts, please provide your "FONT" choice in the personalisation section if you order the custom engraving option. 
The Yin Yang philosophy teaches us to unite with contradicting forces of nature.  One side of the circle is black, typically representing the Yin Side, the other side is white for the Yang Side. The intertwining spiral curve that divides the two is to actually signify that there is not an absolute separation between the two opposites.  The Yin Yang is way to represent the unity of opposite forces and bring together in unity and represent harmony and balance between two opposing forces in life. 
The Yin Yang coming together to reflect the Tree of Life, the balance of harmony and happiness dueled with diversity and challenges.
The Yin Yang Hearts may remind us that in order to incorporate the flow of life with harmony we also need to channel and accept the negative that confronts us, to remain strong with our roots and stay grounded. The fact remains that often we are confronted with challenges and diversity just as much as the harmony and happiness. And it is about acceptance of both to create Peace. 
The Yin Yang Hearts comes without any wall finishing hardware.
Made with light oak wood veneer.
Reviews