Wood Guitar Pick Stainless Steel Ball Chain Necklace - Custom Guitar Pick Necklace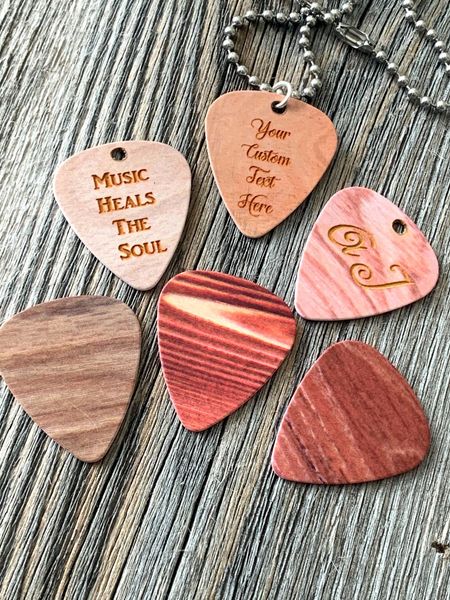 Wood Guitar Pick Stainless Steel Ball Chain Necklace - Custom Guitar Pick Necklace
Perfect Custom Music Gift? Look no Further! 
Stainless Steel 2.5mm ball chain necklace, with a wood grain guitar pick in your choice of 6 color options,
You can customize one side of the guitar pick stainless steel necklace with your own custom wording.
Approx. 4 words can be added.
These are naturally engraved into the surface so the color of the engraving is natural and as shown.
Custom Engraved Conversational Heart Guitar Picks Can be Personalized with your own wording/text, if you would like the same necklace with both sides printed, please select 2nd side engraving.
The font we have selected as shown In the pictures is hugs and kissed for the "your custom text", AR Julian for "Music heals the soul", and Mystery Script for "AJ". 
Comes complete with a dark brown gift box, ready for gift giving!
Guitar Pick Stainless Steel Ball Chain Necklace Customized Engraved: 
•Size of Guitar Pick is:  .96mm, 2.5mm Stainless Steel Ball Chain Necklace that is 22" in length but you can make the necklace shorter if you wish by trimming the end to the desired size you would like.
•Wood:  Wood Filled / PVC
•Choose your own font from our font selections
•Add custom wording
Reviews