Wedding Rustic Tree Guest Book Jigsaw Puzzle, Wedding Guest Book Alternative, Custom Engraved Wooden Tree Guest Book Puzzle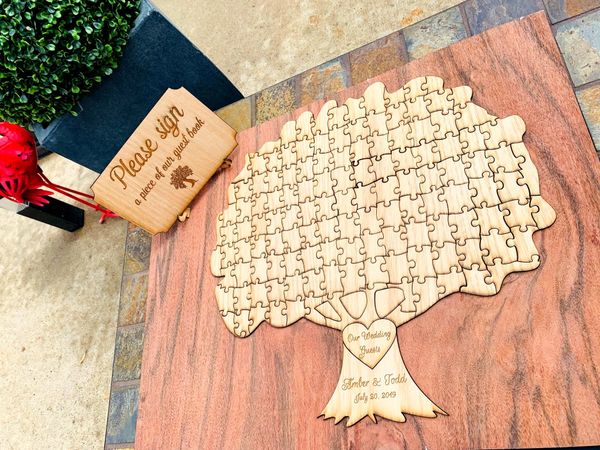 Wedding Rustic Tree Guest Book Jigsaw Puzzle, Wedding Guest Book Alternative, Custom Engraved Wooden Tree Guest Book Puzzle
Rustic Wedding Guest Book Tree - Can be ordered in many puzzle piece sizes, starting at 60 pieces, 70 pieces, 80 pieces, 90 pieces, 100 pieces, 110 pieces, 120 pieces, and 130 pieces.
The tree size will always remain the same size, as 17" x 16" but the puzzle piece sizes will vary on the quantity of pieces you order for your tree puzzle.
The puzzle size displayed in the image listing is 130 pieces, the largest of puzzle pieces sizes. 
A large 17" wide by 16" wedding guest book puzzle in the shape of a tree, the size of this tree will always remain the same size, the size of the pieces will change depending on your selection of the guest book tree puzzle piece size.  The smallest the pieces will be on the 130 sized puzzle as shown; each puzzle piece size will be approximaely 1.5" x 1".   The wedding tree guest book will come with the plaque as shown, you may customize the plaque with your own wording, and on the heart puzzle piece on the tree, and on the trunk of the tree.  We will send you a proof before your tree is printed so may review all the details and make sure everything looks perfect!
Measures:17" L x 16" W and 3mm thickess
The font we have used for the wedding guest book tree is Pamega Script, but you may select your own from the drop down menu.
Reviews