Stainless Steel Custom Engraved Black Military Style Dog Tag Pendant Keychain - Personalized Black Keychain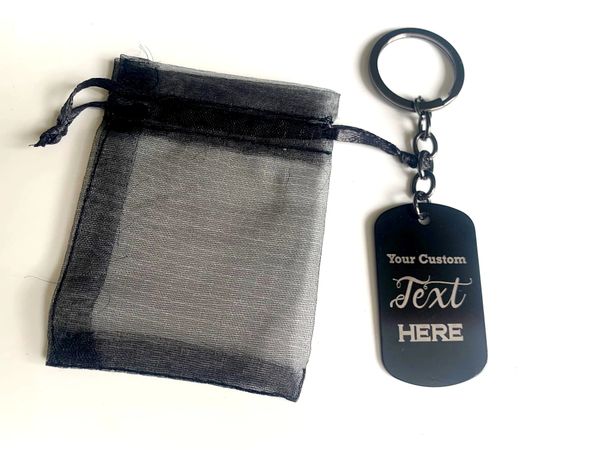 Stainless Steel Custom Engraved Black Military Style Dog Tag Pendant Keychain - Personalized Black Keychain
Stainless Steel Black Military Style Keychain engraved on one side or two sides, with your choice of font and/or image from our stock image list. 
Select a stylish font from our list of 37 different font choices.
Keychain comes in a black bag as shown. 
Item width is 30cm x 50cm length 
CUSTOM KEYCHAIN:  this will include your own options of a logo, or image that you send us or we create for you. Please email custom logos and images to:
info@allcustomprintedprodcuts.com.   Please send us a preview of your image before ordering so we can verify if the image will work, or perhaps we have a similar one in our image library.
eg. medical alert id's, etc. 
Instructions for ordering a CUSTOM keychain: 
Please select CUSTOM from the first drop down menu (your custom keychain can include various fonts and/or even custom imported fonts, and then please select your CUSTOM 1 SIDE or CUSTOM 2 SIDES for the keychain.
Reviews