Stainless Steel Laser Engraved 12oz Insulated Wine Cup Wine Goblet with Lid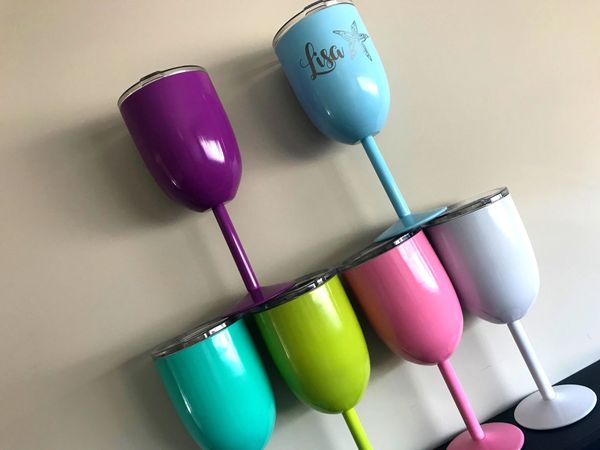 Stainless Steel Laser Engraved 12oz Insulated Wine Cup Wine Goblet with Lid
Stainless Steel Vacuum Insulated 12oz Wine or Champagne Flute Long Stemmed Cup with push seal lid - Personalized with a name and image of your choice!

Long Stemmed wine goblet in four amazing colors, white, sky blue, ocean blue, and purple ~ Laser Engraved Permanently onto the travel mug, not with decals that peel or wash off. Laser engraving will be silver. 

Made with 304 stainless steel high quality long stemmed colored wine tumbler in a 12oz size, the perfect fun wine goblet that comes complete with a push seal lid.  Keep your drinks cold for up to 9 hours, and for hot liquids approx. 3 hours. The tumbler is an insulated vacuum seal travel cup ideal and universal for both cold or hot beverages. 
Wine cups come complete with your choice of font from our fonts list (over 30 different cursive, block or script fonts, or our new monogram font), add a single or double sided print (add your image to the 2nd side, additional fees will apply for 2 sided printing), and even choose a unique image to appear on your travel mug. 
Hand washing is recommended for your wine cup because the high temperatures of the dishwasher may affect the insulation of the cup.
Features of the Stainless Steel Insulated 12oz Wine Cup Wine Goblet Laser Engraved Personalized:
- 12oz
-  BPA FREE
- FDA Approved
- Stainless Steel 304 (18/8)
- 9 Hrs cold, 3 Hrs hot
-  Insulated Cup
- Push Vacuum Seal Lid
Reviews