Set of Two, Godmother and Godfather Cross Baby Mobile Custom Personalized Small 9oz OR Large 17oz Stemless Wine Glasses Set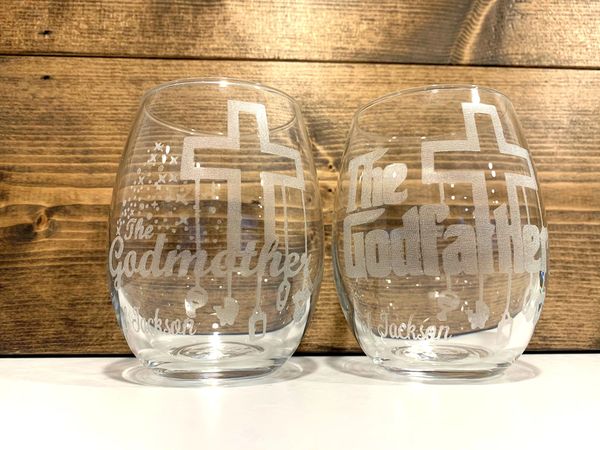 Set of Two, Godmother and Godfather Cross Baby Mobile Custom Personalized Small 9oz OR Large 17oz Stemless Wine Glasses Set
Set of Two (2) Godfather and Godmother Cross and Baby Mobile Logo Stemless Wine Glasses Set in your choice of either 9oz Small Stemless Glasses or the 17oz Large Stemless Glasses ( can be personalized at the very bottom of the glasses), select your own choice of font for the custom name that displays below the logo.  If you wish to not have any names would like just the logo then select NONE logo only in the drop down font menu selection. 
Gift Wrap?  If you want cellophane white boxes for your wine cups for gift giving, please add the gift wrap of $6 CAD to your order! and they will come individually gift boxed ready for gift giving!
The bottom names in the images show the font "Pamega Script" being displayed.
Name(s) to go under the logo's as shown
9oz or 17oz Godmother and Godfather Baby Mobile Logo Stemless Wine Glass Features:
Great for a gift set for Godfather and Godmother
Size of wine glass is 9oz or 17oz 
Choose your own font from our font selections
Reviews