Service Custom Engraved Etched Printed Personalized Wine Bottles Quantity 7 to 12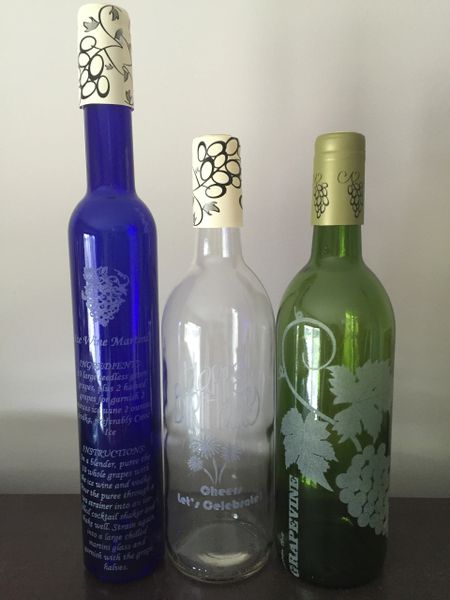 Service Custom Engraved Etched Printed Personalized Wine Bottles Quantity 7 to 12
Supply your own wine bottles and we will custom print them for you,

We will contact you shortly after your purchase of our custom printed wine bottle service and make arrangements to collect your wine bottles for our custom wine bottle etching. Be sure to supply the best email or phone number to reach you, thanks.
Create your own artistic wine bottles when you supply your own, quantity of 7 to 12 bottles, they will be completely transformed into a piece of art. You can custom print with laser printed etching wrapped around the wine bottle as shown. The image can will appear on the front of the bottle as shown with wrap around the bottle, or front, or two sided imprint. Perfect for the wine making enthusiast that would like to gift their creations and/or have their own unique logo added, a recipe or any type of custom personalization can be added. The custom etching lasts forever so no need to add paper labels to your bottles over and over.
As shown in the picture we used a large vector art image of grapes.
Add your own image from our image selections
Choose your own font from our font selections
You can add your own logo or artwork (set-up charge for artwork will apply $35.00 extra, one time fee as we will keep you artwork on file for one year if you decide to purchase additional later on)
Makes a great and unique gift for Wedding, Anniversary, Birthday or a wine making enthusiast
Reviews