Custom Wood Cursive Name Sign - Wood Sign Decorative Script Font - Magnolia Script Font Sign - Custom Wall Sign - Personalized Wall Sign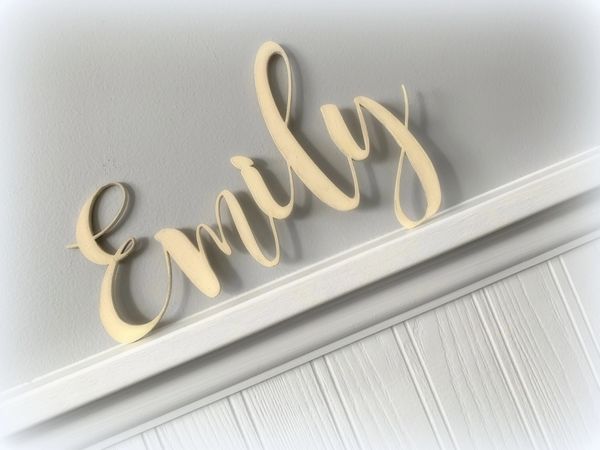 Custom Wood Cursive Name Sign - Wood Sign Decorative Script Font - Magnolia Script Font Sign - Custom Wall Sign - Personalized Wall Sign
Natural birch wood 3mm thick or 6mm thick can be left for a natural look, or you can select a wood stain, light, medium, dark walnut, or cherry, we also offer the sign to be painted in a few different colors, such as white, black, rose gold, silver, gold and ivory, we are using a stylish block font for the letters that are joined together order a custom word, or name, or even numbers.  The custom wood name or word sign can be ordered in 8" to 24" sizes.
We are using a natural birch wood in either a 3mm or 6mm thicknes, select your width wood sign size from 8 ot 24 inches along with either the 3mm or 6mm thickness. The width will vary depending on the length of the word. The font is Magnolia Script.  The color of paint is ivory.
You can refer to the font chart on the product listing to review the characters in assistance with creating your custom name sign.
Upon purchase, please provide your custom word or name in personalization section.
Please note "processing times" - if you select a natural "unfinished" style then you sign will ship out within 24 hours, if you select a wood stain finish, or a paint then the process time will be extender from 2-3 days to allow for proper drying time of your custom finished name or word sign.
Reviews