Personalized Small Clear Acrylic Frame Unity Sand Ceremony Set - Acrylic Frame Set - Custom Unity Sand Set - with 2 Crystal Sand Included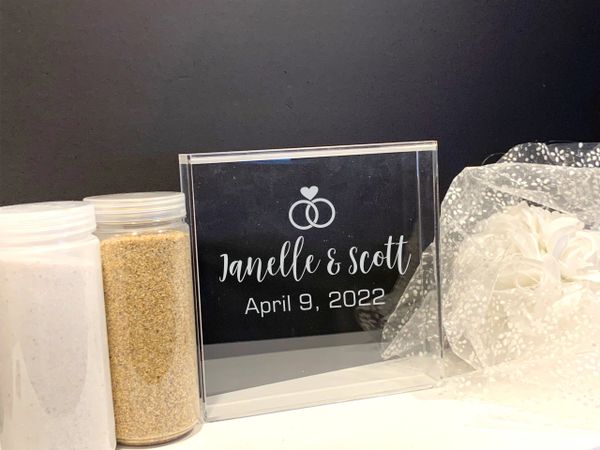 Personalized Small Clear Acrylic Frame Unity Sand Ceremony Set - Acrylic Frame Set - Custom Unity Sand Set - with 2 Crystal Sand Included
Custom Personalized Clear Acrylic Frame Box Small Unity Sand Ceremony Frame Set with Two (2) Sand...
The set includes custom personalized permanent engraving on the acrylic frame as shown, this includes your choice of custom personalization, with your choice of font, and your choice of image if any, includes a funnel, and 2 crystal natural colored sands in white (21 oz) and brown (21 oz). 
If you require other colors of sand, you can find the crystal colored sand listing here and add them to you order. https://www.etsy.com/ca/listing/1136714928/quartz-colored-sand-decorative-colored
This unity sand frame makes for a wonderful ceremony alternative, as well as a keepsake for the home after the special day. Bride and groom can both participate in the traditional unity sand ceremony! Frame measures 7"L x 7"W x 1.25" depth.
The top of the acrylic box has a slide open lid and the funnel would be placed in the middle for pouring of the sand. 
Please note if you would like a preview/proof to be sent to your email prior to printing your Custom Personalized Small White Wood Unity Sand Ceremony Frame Set. 
Reviews