Personalized Paper Coasters Wedding Birthday Anniversary Square Sold in Quantity of 100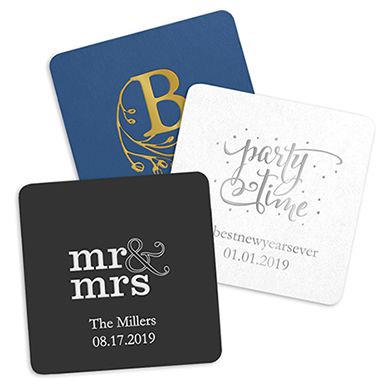 Personalized Paper Coasters Wedding Birthday Anniversary Square Sold in Quantity of 100
If you are looking for a budget friendly way to add a colorful and personalized touch to your table top displays or drink stations, these cardboard backed, foil stamped paper coasters are sure to deliver. Available in a wide variety of personalization options, these decorative coasters will be the perfect complement for your unique celebration.
* This item is sold in packages of 100
* 36pt thick pulpboard
With Themed Images:
(CS19)Lovebird
(CS35)Starfish
(CS37)Vintage Floral
(CS100)"party time"
(CS103)"Sip Sip, Hooray"
(CS106)"the adventure begins"
(CS903)Tandem Bike
(CS910)Champagne Flutes
(CS911)Anchor
Anniversary Images:
(CS47)5 Years
(CS22)10 Years
(CS48)15 Years
(CS49)20 Years
(CS10)25 Years
(CS50)30 Years
(CS51)35 Years
(CS11)40 Years
(CS52)45 Years
(CS12)50 Years
(CS53)55 Years
(CS23)60 Years
(CS24)65 Years
(CS54)70 Years
(CS66)75 Years
(CS55)80 Years
(CS56)85 Years
(CS57)90 Years
(CS58)95 Years
(CS59)100 Years
Wedding Theme Images:
(CS4)Stylized Bride + Groom
(CS7)Double Hearts
(CS8)Forever
(CS9)All You Need Is LOVE.
(CS18)Mr. and Mrs. In Script
(CS20)Mr. and Mrs. Standard
(CS108)Mr & Mr Same Sex Standard
(CS109)Mrs & Mrs Same Sex Standard
(CS33)Eat Drink Marry
(CS46)"best day ever"
(CS67)Wedding Cheer
(CS71)Happily Ever After
(CS77)Thank You For Sharing
(CS84)Love Antlers
(CS94)Love Gives Us A Fairy Tale
(CS101)Drunk In Love
(CS110)Love Wreath
(CS914)Love Signature
(CS916)Love Stack
(CS918)best day ever - Block Style
(CS922)Mr. & Mrs. Heart
(CS919)Mrs. & Mrs. Same Sex Heart
(CS920)Mr. & Mr. Same Sex Single Bowtie
Reviews