Personalized Engraved Message Dog Tag Pendant Necklace Stainless Steel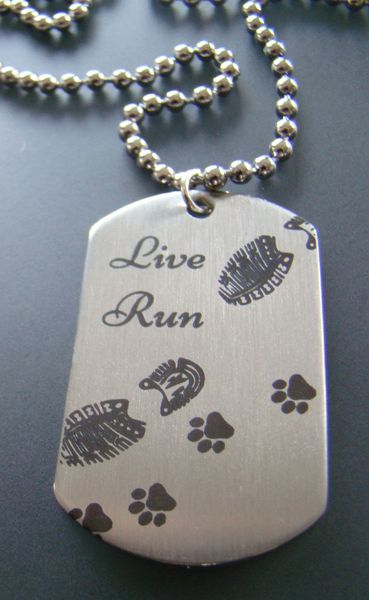 Personalized Engraved Message Dog Tag Pendant Necklace Stainless Steel
Stainless Steel with custom black permanent laser imprint message of your own (including custom finger prints, please inquire as a set-up fee of $35 CAD for creating fingerprint impressions for the necklaces), choose from various font styles from block letters to fancy scripts.  The dog tag pendant comes complete with a stainless steel 24" ball chain necklace in either a 2mm ball size, or a 3mm ball size. The middle ring to attach and hold the pendant to the necklace is a heavy duty sterling silver locking jump ring, so the pendant will safely stay on the necklace. 
Add Fingerprints or Logo? certainly we can do that, we do charge a $35.00 CAD set-up fee, we will offer a discount if 10 or more pendant necklaces are ordered with Logo services.
Fingerprint processing?  please submit clear fingerprints to us by using a black ink pad to take the fingerprints, please scan the fingerprints and submit to us by email (info@allcustomprintedproducts.com), please use clear white paper without any lines. Please note: $35 CAD additional will apply for for this service. 
Custom Stainless Steel Dog Tag Pendant 24" Necklace Features:
•Size of Dog Tag:  2.5 cm x 4.5 cm
•Choose your own font from our font selections
•Finish:  Brushed Stainless Steel in your choice of 2mm or 3mm bead size
•You can add your own fingerprints, logo or artwork (set-up charge for artwork will apply $35.00 extra, one time fee as we will keep you artwork on file for one year if you decide to purchase additional later on)
•Makes a great and unique gift 
•Makes a great and unique promotional product, add your logo, order 10 or more and the price will be reduced, please inquire for discount pricing on special orders.
Reviews