NP57 Bic Plastic Cover Notebook Printed Qty of 100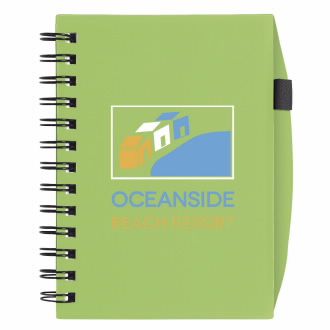 NP57 Bic Plastic Cover Notebook Printed Qty of 100
Item #NP57
100 sheets of lined, #55 paper
Price Includes
Screen Print (SP): $50(G) set-up charge per color. Price includes 4-color imprint. 4 colors available.
Imprint
Screen Print Front Cover 3"W x 3"H 4 color(s) included 4 color(s) max, Standard
Imprint Colors
Screen Print
116 Athletic Gold
2587 Purple
355 Green
872 Metallic Gold
Reflex Blue
208 Burgundy
281 Navy Blue
327 Teal
172 Orange
186 Red
293 Royal Blue
Process Blue
White
114 Lemon
1545 Brown
316 Dark Teal
8085 Metallic Magenta
202 Maroon
211 Pink
8203 Metallic Blue
8283 Metallic Green
877 Metallic Silver
205 Magenta
424 Charcoal Gray
1345 Cream
341 Forest Green
876 Metallic Copper
Black
Colors displayed are for reference only. Colors on computer screens may vary based on the graphics card and monitor used with your system.
Product Dimensions
5"W x 7"H
Product Colors
Note Book Colors

:Blue, Red, Green, Purple, Orange, Clear
Product Materials
Polypropylene with no coatings or untreated for the covers ;55#/80GSM Free Paper
Additional Ordering/Imprint Info
Production Time
Standard :5 business days.
24 Hour :1 business days.
Packaging
Packaging: Bulk
Pack Of: 25
Weight: 14.4 LBS
Reviews