Mr and Mrs Classic Wedding Cake Topper, Mr & Mrs Custom Mirrored Acrylic Cake Topper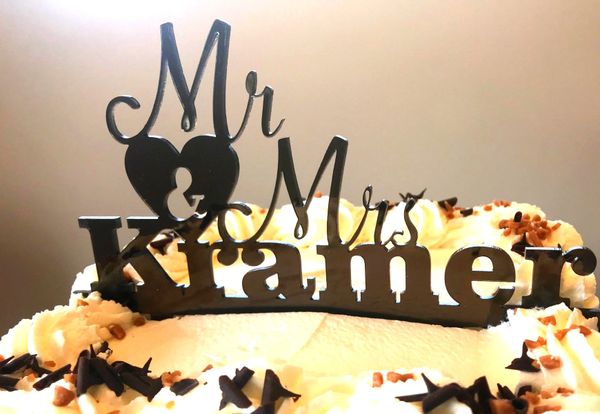 Mr and Mrs Classic Wedding Cake Topper, Mr & Mrs Custom Mirrored Acrylic Cake Topper
Mr. and Mrs. Classic Mirrored Acrylic Wedding Cake Topper designed specifically so the bottom block letters will accommodate your surname.
Now, for sizes, you can order your cake topper in many width sizes to fit perfectly on your cake depending on your cake size, the size we offer on this listing is: 8" width, 9" width, 10" width, and 12" width. If you require a certain size other than what is listed, please request a custom order, additional charges may apply.
Mr and Mrs Classic Wedding Cake Topper, Mr & Mrs Custom Mirrored Acrylic Cake Topper Features:

Your cake topper will feature TWO x .75" wide x 2.5" long sturdy stakes (not removable).
We use high quality colored mirrored acrylic that gives your cake topper a stunning elegant look.
We offer various sizes, 8", 9", 10", 12", other custom sizes are available by request. The length of your cake topper will vary by the width you select.
Acrylic thickness is 1/8"
Colors to select from are: Mirrored Gold, Mirrored Pink, Mirrored Blue, Mirrored Purple, Mirrored Grey, Translucent Black, Translucent Bronze
Reviews