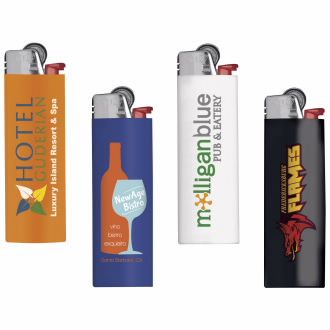 LTR Bic J26 Maxi Lighter
Item #LTR
FREE set-up
Up to eight colors available on each side
Up to 3,000 lights!
Comfortable to use
Patented Child Guard® mechanism
Price Includes
Screen Printing (SP): Price includes a 1-color, 1-side imprint. 8 colors available per side. Add $.12(C) per lighter for each additional imprint color, per location. Warning label will be affixed to Side 2 of the lighter after imprinting.
Imprint
Screen Print 1 Side 3/4"W x 2-1/8"H 1 color(s) included 8 color(s) max, Standard
Screen Print
116 Athletic Gold
211 Pink
2587 Purple
281 Navy Blue
327 Teal
355 Green
872 Metallic Gold
Reflex Blue
114 Lemon
208 Burgundy
316 Dark Teal
172 Orange
186 Red
293 Royal Blue
341 Forest Green
White
1545 Brown
8085 Metallic Magenta
Black
202 Maroon
424 Charcoal Gray
8203 Metallic Blue
8283 Metallic Green
877 Metallic Silver
1345 Cream
205 Magenta
876 Metallic Copper
Product Dimensions
3-1/4"H x 1"W
Product Colors
Product Colors

:Forest Green, White, Blue, Red, Black, Yellow, Orange
Product Materials
Plastic
Additional Ordering/Imprint Info
All lighter shipments are subject to hazardous materials surcharge by the carrier. Lighters will ship standard ground plus a $28.50(Z) hazardous materials charge per carton. This item is classified as a hazardous material by various federal agencies and may not be reshipped or mailed except in an approved container.

Production Time
Standard :5 business days.
24 Hour :1 business days.
Packaging
Packaging: Bulk
Pack Of: 200
Weight: 11.2 LBS
Reviews