Laser Engraved Wood Wine Rack and Industrial Plumping Wine Rack with 3 Printed Wine Glasses - Custom Orders Welcome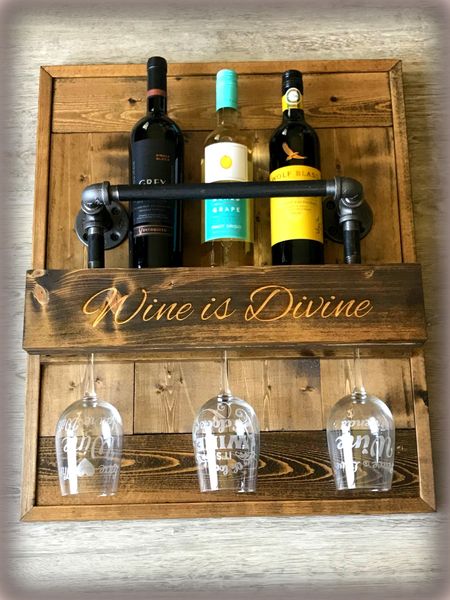 Laser Engraved Wood Wine Rack and Industrial Plumping Wine Rack with 3 Printed Wine Glasses - Custom Orders Welcome
Rustic wood and industrial plumbing pipe come together to create this uniquely detailed and designed dark walnut stained wine rack, your can order the wine rack as shown in the image "Wine is Divine" we have used Alex Brush Script for the font choice,  and the three wine glass styles will also come with your wine rack, which is "Love the wine your are with", "Peace Love Wine Friends" and "oh look It's Wine O'Clock", 
or 
select the CUSTOM engraving option AND..
create your own custom wording or name inspired onto the wine rack along with your choice of stylish font, we have used "Alex Brush" for "Wine is Divine" on the image listing,   The rustic wine rack includes 3 custom personalised 17oz large long stem wine glasses as shown, create these glasses with your own with your own choice of fonts.  Please note we will send you proofs for both the wine rack and the wine glasses.
Product Specifics:
SIZE: 21" x 25 3/4" x 7" 
Weight:  20.3 lbs or 10 kgs
Holds 3 Bottles
Holds 5 Wine Glasses
Wall Mountable Wine Rack (Hardware not included, suggestion to use the industrial pipe screw ports already on the wine rack, due to the weight of the wine rack you should locate wall studs for proper wall mounting)
Materials:
Pine Wood
Industrial Plumbing Pipe
Production Times:  
1-2 days for non custom 
1-2 weeks for a custom orders
CUSTOM Wine Rack Purchase (Proofs will be Provided):
1. Your CUSTOM WORDING for the wine rack up to three words total. 
2. 3 Wine Glasses:  Your custom words or names or phrases for the wine glasses along with font choices outlined to us
Reviews