Laser Engraved Wood Decor Wall Sign 5.5" W x 22" L - Custom Orders Available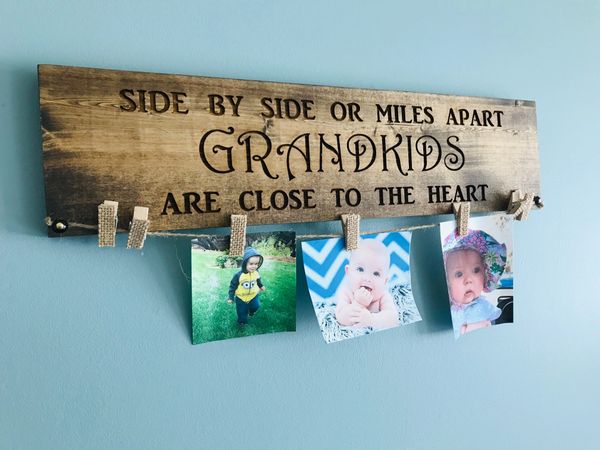 Laser Engraved Wood Decor Wall Sign 5.5" W x 22" L - Custom Orders Available
A ready to hang wall mountable indoor custom wood sign, with a dark wood walnut stain, and with the phrase engraving of  "Side by Side or Miles Apart Grandkids are close to the heart", you may enter your 2 choices of fonts for the phrase in the "personalisation" section (we have used AR Julian for the main wording, and Harrington for the GRANDKIDS, the wood decor sign comes complete with the cloth pins as shown for hanging up to 7 pictures, and the jute string, decorative nails, sawtooth picture hanging hardware on the back, and intricately laser engraved with precision in your choice of two fonts, you may order as is, but the fonts for main sign wording "side by side or miles apart, and the sentence below is AR Julian Font" and the "Grandkids font we have used is Harrington".
Recommended as Indoor Wall Art Decor
Type of Wood:  Pine
Size:  5.5" x 22" x .74" 
Complete With Wall Hanging Hardware (sawtooth)
CUSTOM WALL SIGN ORDER: 
You may also order this wood sign by selecting CUSTOM WALL SIGN, and selecting the custom order selection in the drop down menu under "Engraving Options", then we will be in contact with you to discuss these items for your custom order.
1. Your CUSTOM WORDING for the wood sign.
2. Your choice of Water Based Wood STAIN COLOR, as shown on the listing
3. Your custom FONT choices for the wood sign.
Upon purchase of the "CUSTOM" wood engraved sign we will build a proof of your sign so that you may have a preview of the sign and be able to approve the custom details before the wood sign is printed.
Reviews