Handwritten Recipe on Casserole Dish - Custom Handwritten Recipe on 8" x 8" Square 2QT or 1.9L Casserole Dish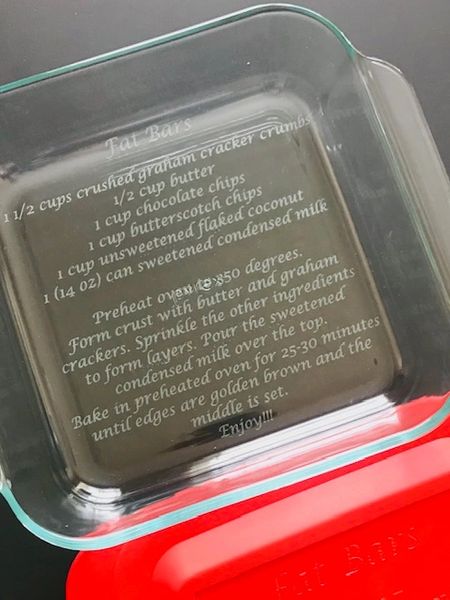 Handwritten Recipe on Casserole Dish - Custom Handwritten Recipe on 8" x 8" Square 2QT or 1.9L Casserole Dish
Surprise your loved one with a homemade casserole dish that has a full recipe added to the bottom of the casserole dish, the "Handwritten recipe" should be emailed to us, please send your recipe to:  info@allcustomprintedproducts.com and then your handwritten recipe becomes a family favorite heirloom that can never ever be lost and etched permanently onto the bottom of the casserole dish.
A clear 8"x8" inch square Pyrex casserole dish that be custom printed with laser printed etching onto the bottom of the casserole dish.  The 8" x 8" casserole dish now comes with the red sealed lids as shown in the picture. The custom engraving will appear on the very bottom of the casserole dish (not bottom inside) as to not interfere with any of the food contents added to the inside of the casserole dish.  Laser etching is a type of engraving directly on glass and does use any type of chemicals or ink enhancers.  You can also choose to add the lid printing engraving / etching with the same or different pattern for additional.
Upon purchase, in the NOTE to SELLER section please indicate if you would like a proof sent to your email. 
CUSTOM HANDWRITTEN RECIPE:  We can create a custom recipe hand written with a person's hand written recipe on a recipe card or paper, our set-up fee additional to the casserole dish is $35 CAD for an artwork charge. As shown in the last product listing picture, please be sure to the select "Handwritten Recipe" on the customizing options shown on the drop down menu and this will add the $35 CAD set-up fee for the handwritten recipe.  Then please email us a copy of your recipe to info@allcustomprintedproducts.com.  A clear image will be required and taken with a white background is best.   Please try to take the photograph image directly above the recipe cards and avoid taking the picture on an angle.  A final proof will be sent prior to printing your handwritten recipe. We keep your artwork on file and this can be also be used and added to other products we have such as pie plate, pyrex bowls, cutting boards and serving platters, and glass plates.  If you selected a handwritten recipe then your casserole dish comes with a printed lid. The last picture illustrates the recipe cards that were sent to us and then we applied them to the glass casserole dish.
Clear 8"x 8" inch Pyrex casserole dish with red seal lid features:
•Unique gift for wedding, birthday, Christmas, anniversary, or any chef you know and adore!
•Size of casserole dish is 8" x 8" - product item and etching is dishwasher safe
•Choose your own font style
Reviews