Genuine .925 Sterling Silver Hug Ring & Custom Engraved Wood Ring Box with Poem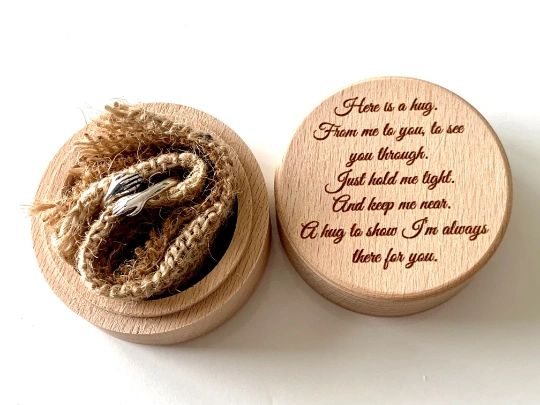 Genuine .925 Sterling Silver Hug Ring & Custom Engraved Wood Ring Box with Poem
A Genuine Sterling Silver Ring (stamped on the ring), along with a custom engraved round wood ring box.
Whether your near or far.. your loved ones will find this to be a significant reminder of how much you love them, makes a great Valentines day gift, birthday gift, or even just a random "just because" reminder gift of how much they mean to you. 
The font we have used for the poem is:  Great Vibes
The .925 genuine sterling silver ring is one size, but is an adjustable ring. 
The ring box will come with the poem as shown in the images, unless otherwise indicated to us, or as selected on the drop down menu.  
The ring box can be ordered 3 different ways (ENGRAVING OPTIONS): The poem as shown, plus additional side of custom engraving. 
Method:  permanent laser engraving embedded into the wood.
The font we have selected on the box to display the text is Great Vibes.
Reviews