Dark Walnut Wood Custom Engraved Pen Set with Gold Gift Box - Personalized Walnut Wood Pen Gift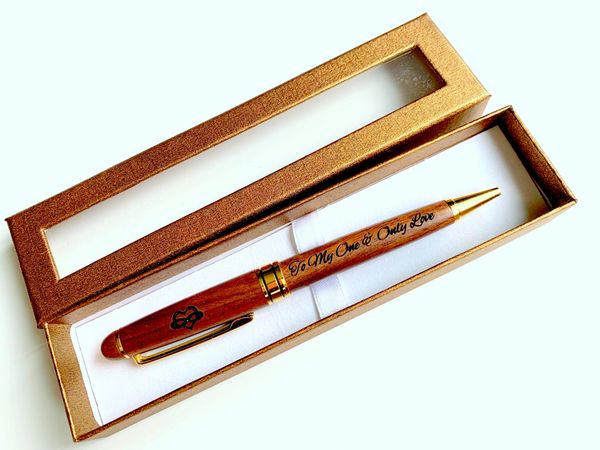 Dark Walnut Wood Custom Engraved Pen Set with Gold Gift Box - Personalized Walnut Wood Pen Gift
Dark Genuine Walnut Wood Custom Engraved Pen Set with Gold Box as shown - Ready for gift giving!
Custom Engraved on the top of the pen with either monogram initials or your choice of an image, and the base of the pen custom text in the font of your choice!
Pen size is:  14.5cm
Black Ink Pen
Writing point side is: 0.5mm
A unique laser cut out design that features a top cut out monogram of bride and groom initials on the top hinged box, then the base of the wood
ring box features an infinity sign that holds the bride and groom rings on each side, with a custom addition of the bride and groom names engraved into the bottom of the ring box and on each side of the wood ring box compartments. 
Item measures;  6" x 3" x 1" 
Reviews