Heart Shaped Personalized Wood Guest Book Puzzle with Plaque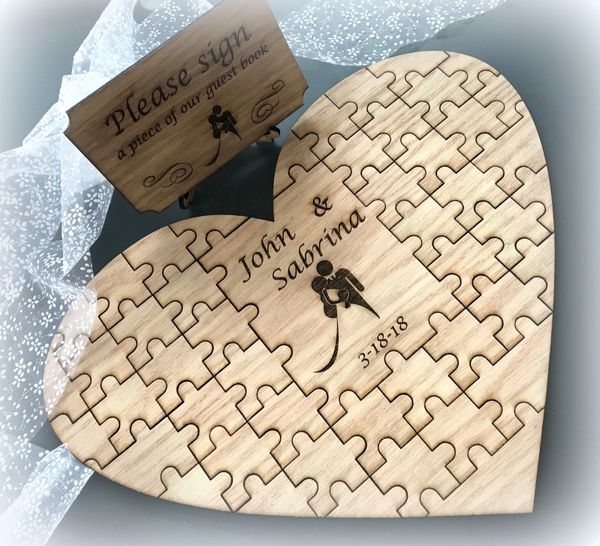 Heart Shaped Personalized Wood Guest Book Puzzle with Plaque
Natural light oak veneer wood engraved wedding or anniversary guest book heart shaped puzzle keepsake.
Each guest signs a puzzle piece at your wedding (we recommend a permanent fine print sharpie marker).  Your wedding puzzle guest book is available in many different sizes, such as 30 pieces, 40 pieces, 50 pieces, 60 pieces, 80 pieces, 90 Pieces, 100 pieces, 120 pieces.  If you do require any other sizes other than what is listed please contact us in regards to a custom order.  We an also create a larger middle puzzle piece with a custom order request if you would like to use your puzzle for a wall decor item afterwards.  Size pieces of the puzzle will vary depending on the size of the puzzle you order, smaller piece puzzles will have larger sized puzzle pieces. The sizes range are between 2.5" x 2.5" or 2" x 2". 
Your wedding anniversary puzzle guest books come complete with a middle personalized center piece that will contain your names, wedding date and your choice of a wedding image as shown on our listing, a please sign a piece of our guest book plaque with matching stand, and your choice of puzzle piece quantities. 
Features of wooden puzzle guest book:
- Natural Light Oak Wood Veneer 5mm thickness
- Engraved Keepsake with your own personal information
- Puzzle pieces measure: starting at approx. 2.5" x 2.5" x 2" x 2" 
- Plaque "Please Sign A Piece of Our Guest Book" Size: 8" W x 5" H
- Middle center piece measure: 4" x 4" (Also available in smaller or larger size by customer request)
- Sizing  starts from 16" x 16"
(More Sizes and Additional Puzzle Pieces by Custom Order Requests)
Reviews