Custom Wood Laser Cut Out Business Card - Engraved Wood Business Card - Personalized Business Card - Custom Cut Out Business Card QTY of 5+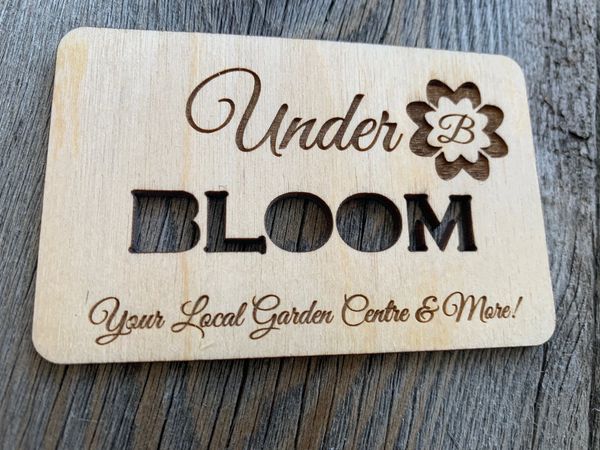 Custom Wood Laser Cut Out Business Card - Engraved Wood Business Card - Personalized Business Card - Custom Cut Out Business Card QTY of 5+
Using a light colored birch natural wood these cards are intricately laser engraved and laser cut out with your own personal details, please provide your personal details in order as you wish the information to appear on the wood business card, followed by the font in brackets if you would like various fonts to be used to create your business card.
Eg.
Line 1:  Under / LOGO (great vibes font) (flower cut out)
Line 2: BLOOM (copperplate gothic font) (cut out BLOOM)
Line 3: Your local garden centre and more! (great vibes font)
Line 4: 
The business cards will be created on a light birch wood, 2mm thickness, and rounded soft corners as shown.
Select your quantity that you would like, any qty of 10 or above for business card items we will send a proof for you to verify and preview your information before the cards are printed.
We do charge a $35.00 CAD logo set-up if you select "custom" business card, and 
any quantity of 40 business cards and over we will waive the $35.00 CAD set-up for logo services. 
If you wish to use your own logo to be displayed on the cards then select custom from the drop down menu, and email us your logo to:  info@allcustomprintedproducts.com
Any logo services that are acquired and the fee is purchased we will send you a proof of your business card before your business cards are printed.
Reviews