Custom White 5x7 Wood Photo Frame Engraved on Top and Bottom - Holds 5x7 Photo - Personalized Photo Frame - Each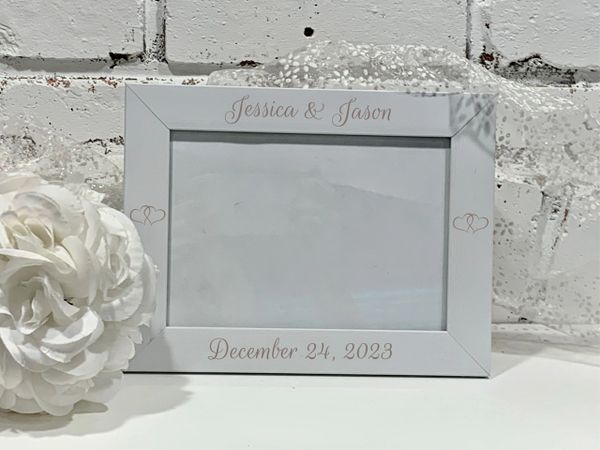 Custom White 5x7 Wood Photo Frame Engraved on Top and Bottom - Holds 5x7 Photo - Personalized Photo Frame - Each
A custom white wood 5x7 white photo frame, the frame itself measures 8.75" x 6.75" but holds the 5x7 photo.  The engravings are permanently engraved into the wood, without use of 
decals or inks.  The frame is engraved on both top and bottom, and totally custom, Line 1 and 2 can be any word that you choose to have engraved within the parameters of allowable 
characters. The font we have used is Rouge Script.   We have printed using landscape, however this frame can be printed in portrait, please see details below.  The frame is universal, it can be placed desktop or hung in either direction. The frame does have hanging hardware and desktop placement hardware. 
If an image is selected the placement will be as shown on the white photo frame, on each side of the frame, left and right.
PORTRAIT or LANDSCAPE Printing:   The example shown in the images, is showing the frame being printed in a landscape direction 7" W x 5" H, if you select portrait the frame will be engraved 5"W x 7" H.
Reviews