Custom Personalized Elegant Fluted Wedding Vase Sand Ceremony Unity Set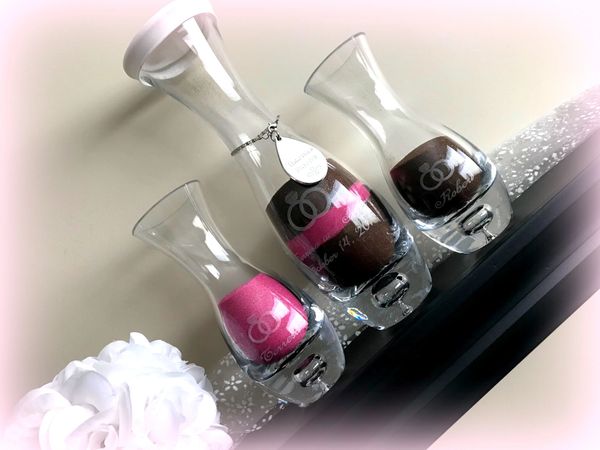 Custom Personalized Elegant Fluted Wedding Vase Sand Ceremony Unity Set
Custom Personalized Elegant Fluted Wedding Vase Sand Ceremony Unity Set

This elegant unity sand set includes: one 10" tall glass vase with hanging charm, two 6.25" glass vases, one white rubber cap for tall vase, white sand and tan sand. A silver chain wraps around the large vase and holds the charm, which is silver-plated with white epoxy. The words "Together Forever" and the icon below it are raised and shine with the surrounding light. Sand is not included, but we do sell in our store with a link provided below.
The bride and groom vase can be engraved with a large initial, or full name, and the middle vase can have three lines of custom text and an image selection (either in middle of the text or above all text). The engraving is a white permanent laser etch. The font shown in the images is "Mystery Script".

Please finally select at the bottom of the drop down menu's if you would like to receive a proof to be sent to your email prior to printing your heart wedding vase unity set.
Do you need sand for your Custom Personalized Elegant Fluted Wedding Vase Sand Ceremony Set? We offer many types of crystal sand in our store, you may view our sand colors and order your crystal sand here!
Reviews