3D Wedding Guest Book Rustic Tree with Hanging Hearts Custom Personalised Wedding Decor Set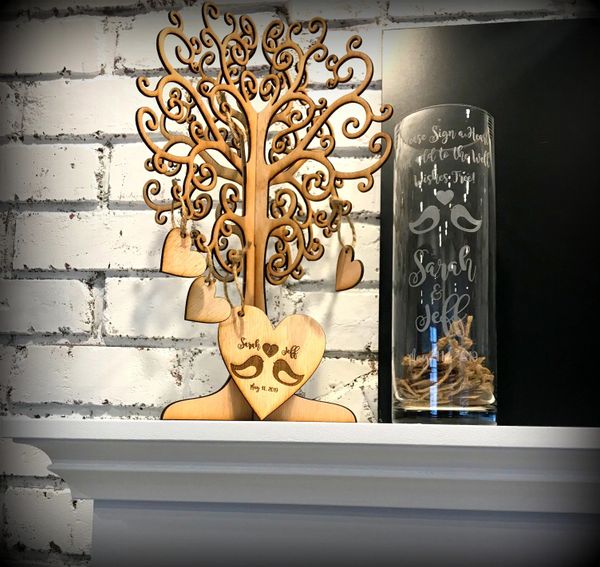 3D Wedding Guest Book Rustic Tree with Hanging Hearts Custom Personalised Wedding Decor Set
Unique 3D Standing Tree Designed for as your Wedding Guest Book, Makes a beautiful Wedding Decor Item, the 3D Wedding Tree Guest Book Features 1.75" sized hearts tied with jute string that do come assembled, you may order your desired qty of hearts to accommodate any wedding size. The signing hearts are featured in a 12" tall x 4" diameter glass cylinder that holds your class hearts for signing.  The 12" large glass cylinder is custom etched with your own message at the top (can be customized), your names, a featured imaged (we have used the love birds but you may add your image from our image list shown on the listing), and your wedding date.  This makes a nice keepsake for after the wedding, use it as a candle holder, or a mantle piece, etc.  The 3D wedding guest book tree also comes with a larger heart that we have added near the bottom of the tree, this heart signifies the bride and groom as part of the tree as well, you may customize this heart as well, the larger heart measures 4".  Order the number of hearts closest to the amount of wedding guests you are having to attend.
Please note we will send you a proof of the glass cylinder prior to printing. 
Features of 3D Rustic Wood Wedding Guest Book Tree with Signing Hearts:
- Mahogoney Wood
- Engraved Keepsake with your own personal information
- Tree Measures 16" Tall x 12" Wide
- Glass Cylinder Measures 12" x 4" 
- Additional Hearts Can Be Added to Your Order to Accommodate any Wedding Size 
(More Sizes and Additional Puzzle Pieces by Custom Order Requests)
Reviews