Custom Laser Engraved Hexagonal Wooden Catan Game Board Wedding Signing Wood Puzzle Guest Book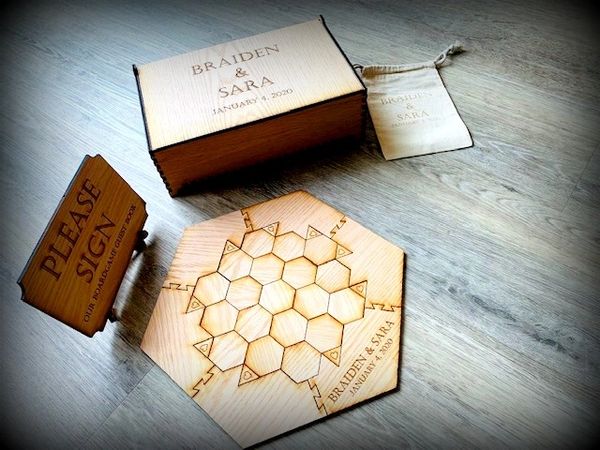 Custom Laser Engraved Hexagonal Wooden Catan Game Board Wedding Signing Wood Puzzle Guest Book
Custom Laser Engraved Hexagonal Wooden Catan Game Board Wedding Signing Wood Puzzle Guest Book, 19 pieces, 30 pieces, 58 pieces. 
A unique element for a wedding if you enjoy playing the game of Catan, here is a custom laser designed wooden hexagonal wooden Catan game board that can be used for a wedding signing guest book,each guest can sign a piece of the hexagonal game board, each hex measures 2" and the puzzle guest book can be ordered in 3 sizes depending on your needs, due to the border the game can be manipulated to create other sizes, only the sizes shown.   You may select your font from the font list as shown on the listing, and even choose to add an image to your customized information.  The font used on the wood guest book shown is Castellar Capitals.
The large wooden box comes with the custom wooden hexagonal guest book as shown, this is a 12" x 9" x 4" size so it can accommodate for other items such as cards, etc.
Depending on the size of the guest book ordered will come with one or two of the linen storage bag(s) that will also reflect your custom information such as names and wedding date. 
The plaque as shown can have your own custom information as well, please note you may select various fonts that you would like to use for the game, we will send you a proof of your wedding guest book game prior to printing. 
The box is engraved with your custom detailed information, and one or more of the outline guest book edges can also accommodate custom text, please select from the drop down list the size of your wedding guest book requirement, then select how many outside border pieces you would like custom engraved. 
Please note every element of this wedding guest book game can be customized to your liking.
Reviews