Custom Laser Engraved Designed Regular Size Catan Oak Wooden Game Board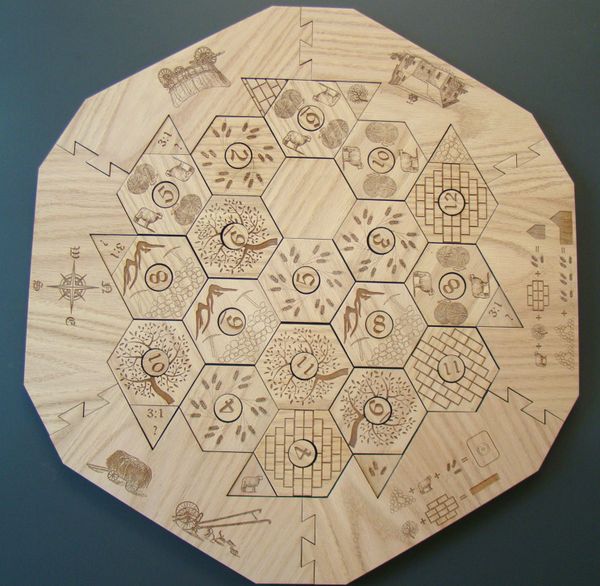 Custom Laser Engraved Designed Regular Size Catan Oak Wooden Game Board
Do you love the game of Catan?  Do you love the game of Catan? Here is a custom laser engraved and designed regular playing FULL size (same size as the original Catan game) oak wood game board to be used with the game of Catan. 
Add on's include custom engraving on the desert tile, or on the game board by the farmhouse.
You can add an expansion for the game board, you can even ADD the large 12.5" x 8" x 4" light oak wood matching storage box (additional engraving can be added to the storage box).   

Material:  Oak, thickness is 5mm
The oak wooden Catan entire game board as shown measures 20.5"L x  22"W
Hex measures:  3" x 3.5" 
Number circles measure: 1" 
Port triangles measure: 1.5" x 1.5" 
The laser wooden engraved Catan board game has a nice design, the numbers fit nicely into the center of the hexes and won't fly around when you roll the dice on them.  
PLEASE NOTE:  all player pieces, game cards, dice, are not included in this game.  All of your original Setters of Catan game pieces are to be used along with this game board, you will have to purchase the original "Setters of Catan" from your local games store. 
- the border
- numbers
- ports
- resource hexes (sheep, wheat, wood, rock, brick)
- desert hex

All cards, dice and game cards are not included.   Please do contact us and let us know what you need and we can create a custom order specifically for you, including an expansion set.  Please email us orders@allcustomprintedproducts.com.
AVAILABLE ADDITIONALLY:
Expansion Set for Additional 2 Players:  you may add the expansion set for this game, this will include the following:
- 2 borders
- 2 sheep hexes, 2 wheat hexes, 2 wood hexes, 3 rock hexes, 3 brick hexes
- One set of number circles
Large Light Oak Wood Storage Box 12.5" x 8" x 4" (the expansion will fit into the storage box as well). 
Reviews