Custom Laser Engraved Designed Catan Wooden Game Board and Playing Pieces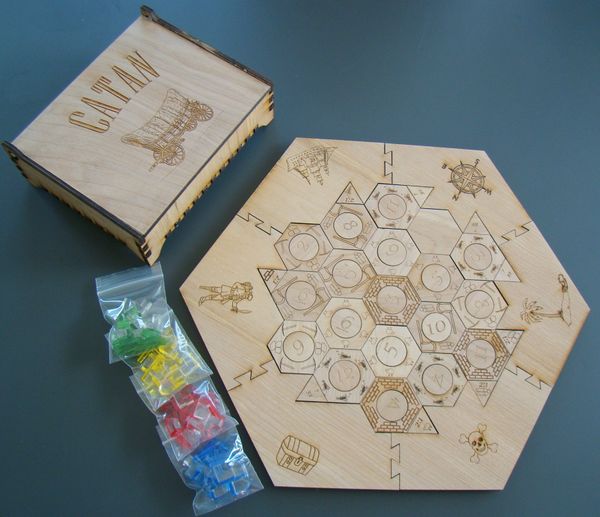 Custom Laser Engraved Designed Catan Wooden Game Board and Playing Pieces
Do you love the game of Catan? Here is a custom wooden laser engraved and designed smaller game board size made out of oak wood for the game of Catan.  The smaller game board as shown measures 14" W x 12" L.  The wooden Catan board game has a nice design, the numbers fit nicely into the center of the hexes and won't fly around if you roll the dice on them.  (Please note the playing cards, game rules, robber and other accessories do not come with the game, you do need to purchase the original game).

The four piece player game set includes four colors, blue, yellow, green, red.   

- the wooden box enclosure for storage of the game board
- the playing game pieces (4 player set, red, blue, yellow, green - settlements, roads and cities)
- the border
- numbers
- ports
- resource hexes
- desert kit

All cards, dice and game cards are not included ~ engraved game board, storage box as shown & 4 piece player pieces only.  However, we do offer the expansion pieces and we also sell the individual joining border pieces and additional resource hexes individual. We also have circles with the number 1 on them if you decide you want to play the game using a 12 sided die, we also have extra four piece game player pieces that we sell, as well as extra resource hexes (this will include six hexes: one desert, one sheep, one brick, one wheat, one wood, one rock), all of these can be ordered as options under this product listing. Please do contact us and let us know what you need and we can create a custom order specifically for you.  Please email us orders@allcustomprintedproducts.com.
Additional engraving for the top or side of the box, you can add personalized engraving for gift giving, please select the $10 additional charge and enter the custom engraving text you would like. 
Reviews