Custom Laser Engraved Designed Catan Wooden Game Board and Playing Pieces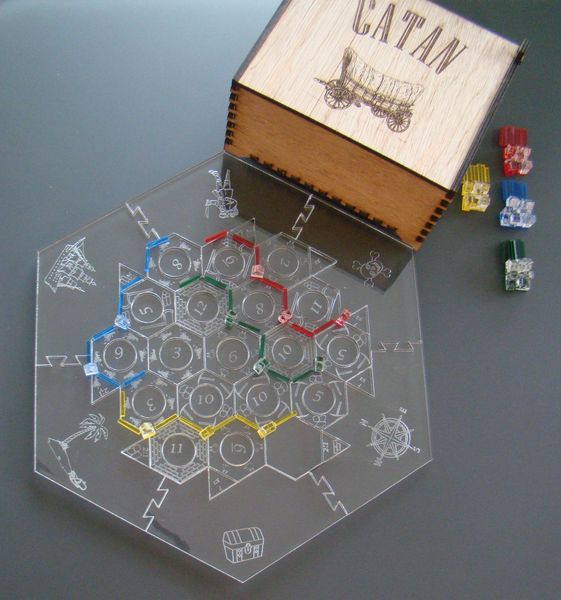 Custom Laser Engraved Designed Catan Wooden Game Board and Playing Pieces
Do you love the game of Catan? A different look altogether and a smaller size game board,  is this custom laser designed clear acrylic board game that includes everything displayed in the picture, including the laser engraved wooden puzzle box for easy storage of the game and creates a nice display too!). The four piece player game set, four colors, blue, yellow, green, red. The game as shown measures 14" W x 12" L and 5mm thickness of acrylic tile game pieces. The clear acrylic Catan board game has a nice design, the numbers fit nicely into the center of the hexes and won't fly around if you roll the dice on them. The engraving on the acrylic game board is actually engraved on the bottom (and mirrored) allowing for a clear glass like top playing board (original game must be purchased to obtain game cards and other playing pieces). 

The smaller designed game board is the perfect size when playing with larger groups of people as everyone can fit around the entire game board perfectly. What is included?:

- the wooden box enclosure for storage of the game board 
- the acrylic playing game pieces (4 player set, red, blue, yellow, green - settlements, roads and cities) 
- the border
- numbers
- ports
- resource hexes (measure 5cm x 4.25cm)
- desert 

The box is made with light oak wood, the game board is 5mm thick clear acrylic
Game Pieces are made from acrylic / plexi glass (clear and colored).  Or you can even upgrade your acrylic catan set by adding a clear acrylic puzzle box instead of the light oak wood box as shown, and then your entire game will be a clear plexi glass acrylic. 

All cards, dice and resource game cards are not included ~ engraved game board, storage box as shown & 4 piece player pieces only. However, we do offer the TWO (2) player expansion set for the game, making this a 5-6 player game set. 

ADDITIONAL ENGRAVING: If you are looking to have additional engraving for gift purposes, please do request a custom order, we charge $10 for additional custom engraving to the top of the box, or side of the box.

Reviews