Custom Engraved Rose Gold Metal Pen Set - Rose Gold White Personalized Pen with Matching Rose Gold Storage Box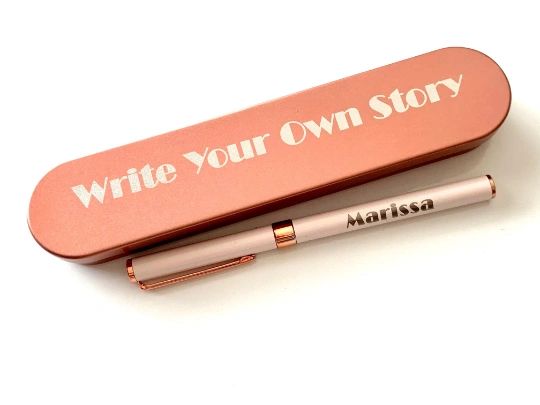 Custom Engraved Rose Gold Metal Pen Set - Rose Gold White Personalized Pen with Matching Rose Gold Storage Box
Rose Gold and Classy White Black Ink Rollerball Gel Ink Pen with Matching Custom Rose Gold Engraved Metal Storage Box
With black gel ink and a fine writing tip point of 0.5mm. 
If you want to order ink refills you may find them here, for this pen: 
Choose from over 30 unique fonts to customize your matching rose gold pen set, you can engrave the top of the pen with 1-3 characters (initials), and the base up to 32 characters.  The rose gold box can display up to 40 characters.
Method:  permanent laser engraving embedded into the metal pen, and the metal box. 
The font we have selected on the rose gold pen set is Pamega Script.
Upon order, please provide the following:
1. Pen Lid, if any (1-3 characters) eg. M.M.H, or pen art icon number from our pen image list. 
2. Pen Base (up to 32 characters) eg. Marissa
3. Pen Box (up to 80 characters) eg. Write Your Own Story
Material:  Metal Pen
Pen Length:  13.5 cm
Writing Point:  0.5mm
Ink Color:  Black
Type:  Gel Ink Rollerball
Custom Engraved Rose Gold Pen Set: 
•Size:  13.5cm
•Metal Pen & Metal Storage Box - Both Custom Engraved
•Add your own custom text with choice of font
Reviews