Custom Engraved Personalized Natural Wood Quality Cup Handmade Drinkware 4oz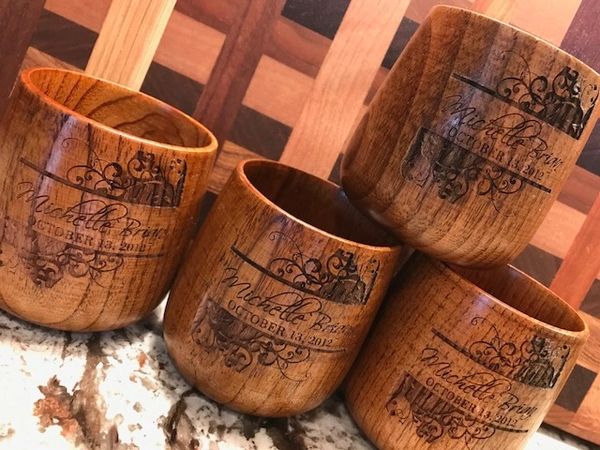 Custom Engraved Personalized Natural Wood Quality Cup Handmade Drinkware 4oz
Natural spruce high quality handmade wooden glass cup, suitable for beer, wine, coffee, tea, milk, etc.  Engraved with your own personal name, wording and/or image.  You can customize this glass by choosing the font, placement of font and a vector image from our selection, or you have the option of customizing the glass with your own artwork or logo (one time set-up of $35 will apply for your own artwork or logo).  Additional engraving to personalize may be added to the bottom of the cup. Add a matching wood coaster! 
You can enter your personal message and select one of our vector art images to be applied to the wooden cup for the laser engraving for the price shown.  
Discount can be applied if you order 20 or more; if you choose for us to apply your own logo, our set up fee of $35.00 will be applied we will keep you artwork on file for one year if you decide to order more we do not charge you the $35.00 set-up laser printer fee. 

FDA Approved, Food Safe, Keep away from boiling water to prevent cracking.
High Quality Natural Solid JuJube Wood, Durable, Non-Toxic
Hand Wash Only, not dishwasher Safe, not microwave safe, not oven safe
Occasionally coating with olive oil to prevent the wood from drying out
Do not use bleach
Do not use abrasives
Wooden Coffee, Beer, Wine, High Quality Cup Features:
Great for weddings, parties, birthdays, businesses as a promotional product
Natural Spruce Wood
High Quality
Capacity of glass is 4 oz. 
Size is 3" H x 2.5" W
Choose your own font style
Create your own artwork glasses we charge a set-up fee of $35.00 extra, (one time fee as we will keep you artwork on file for one year if you decide to purchase additional later on)
Makes a great gift for anyone
Reviews