Custom Engraved Etched Printed Personalized Monogram 9" x 13" Large Casserole Dish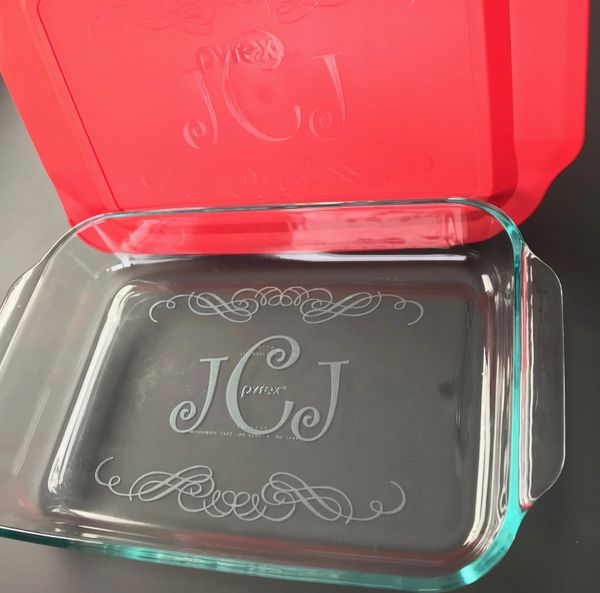 Custom Engraved Etched Printed Personalized Monogram 9" x 13" Large Casserole Dish
Surprise your loved ones with a homemade casserole, great for a son or daughter off to college, they will have a surprise at the bottom of their casserole dish.  Add your own custom monogram initials to the bottom, this makes a great wedding gift for the bride and groom, or an anniversary gift for something unique and useful.  The font selected and as shown is Curlz.
A clear 9"x13" inch rectangle Pyrex casserole dish that be custom printed with laser printed etching onto the bottom of the casserole dish.  The casserole dish comes with a red lid as shown in the picture, The custom lid will also be printed with the matching monogram.  The image and font engraving will appear on the very bottom of the casserole dish bottom outside (not bottom inside) as to not interfere with any of the food contents added to the inside of the casserole dish.  Laser etching is a type of engraving directly on glass and does use any type of chemicals or ink enhancers.
Clear 9"x 13" inch Pyrex casserole dish features:
Unique gift for wedding, birthday, Christmas, anniversary, or any chef you know and adore!
Size of casserole dish is 9" x 13" / Pyrex
Add your own monogram initials, and choose your own font style!
Reviews