Custom Engraved Etched Printed Personalized Green Bordeaux Wine Bottle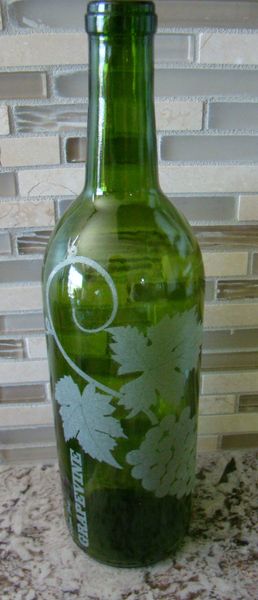 Custom Engraved Etched Printed Personalized Green Bordeaux Wine Bottle
Like an exquisite piece of art this green 750ml bordeaux wine bottle completely transformed into a piece of art. You can custom print with laser printed etching wrapped around the wine bottle as shown. The image can will appear on the front of the bottle as shown with wrap around the bottle, or front, or two sided imprint. The bottles comes empty and are ideal for the wine making enthusiast that would like to gift their creations and/or have their own unique logo added, a recipe or any type of custom personalization can be added. The custom etching lasts forever so no need to add paper labels to your bottles over and over.
As shown in the picture we used a large vector art image of grapes.
A level volume discount can be provided to you as shown below:
$25 for 1-6 qty
$24 for 7-12 qty
$23 for 13-24 qty
$22 for 25-50 qty
$21 for 51 and up
You can enter your personal message and select one of our vector art images to be applied to the wine bottle for the laser engraving. You can also feel free to email us your own vector art, logo, etc. to be applied to the wine bottle. Discount can be applied if you order seven or more; if you choose for us to apply your own logo, our set up fee of $35.00 will be applied we will keep you artwork on file for one year if you decide to order more we do not charge you the $35.00 set-up laser printer fee.

Clear 750ml wine bottle Features:
Great for someone who makes and bottles their own wine
Size of wine bottle is 750ml, flat bottom, for cork
Add your own image from our image selections
Choose your own font from our font selections
You can add your own logo or artwork (set-up charge for artwork will apply $35.00 extra, one time fee as we will keep you artwork on file for one year if you decide to purchase additional later on)
Makes a great and unique gift for Wedding, Anniversary, Birthday or a wine making enthusiast
Reviews