Designer Trendy Dark Mahogany Wood Silver Men's Monogram Custom Engraved Cuff Link Gift Box Set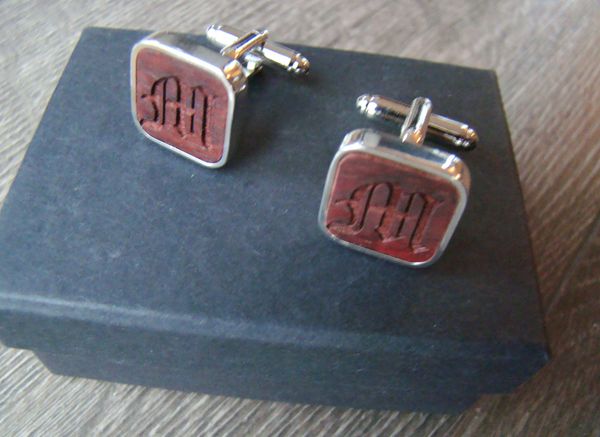 Designer Trendy Dark Mahogany Wood Silver Men's Monogram Custom Engraved Cuff Link Gift Box Set
Designer Trendy Dark Natural Mahogany Wood Silver Tone Men's Monogram Engraved Cuff Link Gift Box Set 

High quality imported from Italy silver tone men's dark mahogany wooden cuff link boxed gift set is the perfect compliment gift to a modern day wedding tux.  Capture your groomsmen, best man, father of the bride, father of the groom with these trendy designer silver tone cuff links monogram engrave with your choice of font.  
Order Blank without engraving or as shown in the image samples we have used, Old English Capitals to engrave the cuff links.  A popular choice for the perfect single initial monogram. You may enter up to 8 characters on each cuff link, and you may enter different customization on each cuff link if you like, as right cuff link, and left cuff link, eg. wedding date on one cuff link, and monogram initials on the other cuff link, etc. 
Cuff link set will come with the box as shown in the listing.
Add a Logo or special image? certainly we can do that, we do charge a $35.00 set-up fee, we will offer a discount if 10 or more watches are ordered with Logo services.

Cuff Link Features:
•Size of Cuff Link:  15mm across
•Choose your own font from our font selections
•Designer and Trendy Modern Day Cuff Links
•You can add your own logo or artwork (set-up charge for artwork will apply $35.00 extra, one time fee as we will keep you artwork on file for one year if you decide to purchase additional later on)
•Makes a great and unique gift 
•Makes a great and unique promotional product, add your logo or image, order 10 or more and the price will be reduced, please inquire for discount pricing on special orders.
Reviews