Custom Created Printed Personalized Etched Clear Acrylic Keepsake Box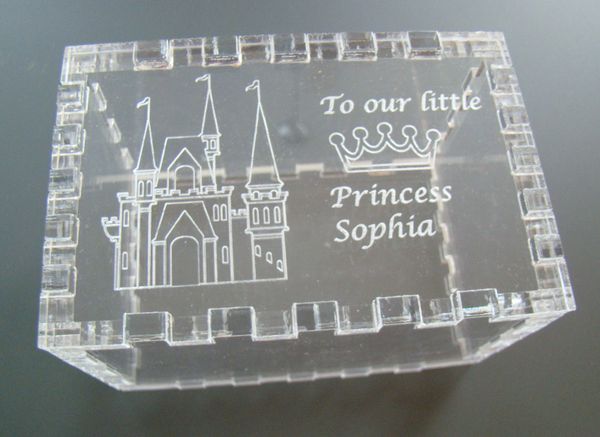 Custom Created Printed Personalized Etched Clear Acrylic Keepsake Box
A uniquely created clear acrylic glass-like puzzle box that was designed and created by us. Each piece fits together as a puzzle piece would.
The lid can simply be taken off and on the puzzle box, but fits like a puzzle piece.
Create your own unique custom box, it is the perfect size for a ring bearer at a wedding.
You can enter your personal message and select one of our vector art images to be applied to the top of the box for the laser engraving. We will align the font and image with the best usage of the 3.75" x 2" max print area.

Puzzle Box Features:
Puzzle box, each piece fits perfectly together and lid fits like a puzzle piece.
Size of box: 4.5"L x 3"W x 3" H
You can add your own logo or artwork (set-up charge for artwork will apply $35.00 extra, one time fee as we will keep you artwork on file for one year if you decide to purchase additional later on)
Makes a great and unique gift
Makes a unique ring bearer box for a wedding
Reviews