Custom Created Engraved Name Personalized Birthstone Gemstone Acrylic Glass Elegant Jewelry Box Birthday Gift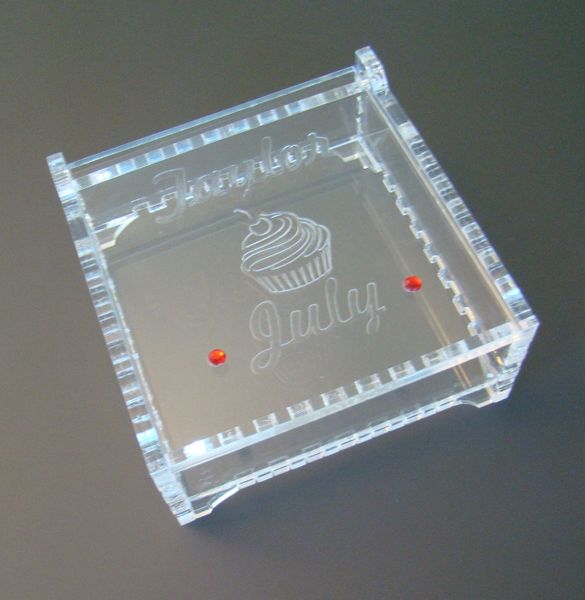 Custom Created Engraved Name Personalized Birthstone Gemstone Acrylic Glass Elegant Jewelry Box Birthday Gift
A uniquely created large clear acrylic glass like birthstone gemstone birthday jewelry keepsake box that was designed and created by us. The box measures 5" W x 5" L x 2" Depth in size and has neat pedestal feet along with a complete hinge top lid the opens easily.  Customise this box with a unique name, image, birth month, and we add embedded birth month birthstones to the box.
The other four lengths of side of the box can feature additional wording or messages if you would like to add, each side is additional $12.
You can enter a unique name to personalize on the very top of the keepsake box, an image, and the birth month for the price shown. You can even add a different message to the sides of the box, each additional personalization side of the box is $12.  You may select one of our vector art images to be applied to the top of the box for the laser engraving.   

The acrylic box shown features July - Ruby Birthstone, the cupcake image, and Lucida Calligraphy Script.

Large 5" x 5" Acrylic Birthstone Keepsake Box Features:
Elegant Glass Like Keepsake box with attached lid and hinge system
Size of box: 5" L x 2" Depth x 5" W
Add your own image from our image
Choose your own font from our font selections
Makes a great and unique birthday, bridal gift, baby gift 
Reviews