Chevron Arrows Wood Wall Decor Art Laser Engraved Family Friends and Love - Set of 3, 12" x 12" - Custom Orders Welcome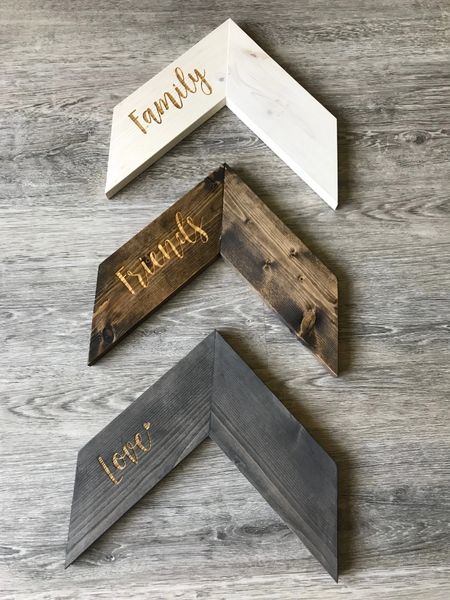 Chevron Arrows Wood Wall Decor Art Laser Engraved Family Friends and Love - Set of 3, 12" x 12" - Custom Orders Welcome
Set of 3 Chevron Arrows in Walnut Brown, Gray and White Wash Stain that are Laser Printed Ready to Hang Wall Decor with Family, Friends and Love intricately engraved on each arrow using Malisia Script, 
or you can choose "CUSTOM ORDER" and we can create the set of arrows with your own stain color choices, and your own choice of custom words on the set of 3 Chevron Arrows.
your choice of stain color for each wood arrow, the set of three 12" x 12" wall arrows come complete with hardware on the back ready to hang!  In the drop down menu, please select your choice of font for the set of 3 arrows.   The arrows will be printed as shown in the images, this way you may hang the wall arrows in an up and down format, or a sideways format, or a diagonal format on the wall, and the words will be easily read in each direction.  
The engraving options are the natural wood letters as shown on the listing images, or you can select black letters or white letters for the custom words on the arrows. 
The arrows can be printed in three color choices of stain as shown on the listing, please provide your three colors of stain ALONG with each word in the personalisation section of checking out. The colors we have used on the images shown are:  American Walnut, Charcoal Grey, and Honeydew White Wash
Recommended as Indoor Wall Decor Art: 
Type of Wood:  Pine
Size:  12" x 12" x .75
Complete With Wall Hanging Hardware (sawtooth)
Production Times:  
1-2 days for non custom 
1-2 weeks for a custom orders
Reviews