Custom Acrylic Sand Ceremony Unity Photo Frame and Silicone Wine Cups Set - Personalized Acrylic Unity Sand Ceremony Set with Two Sand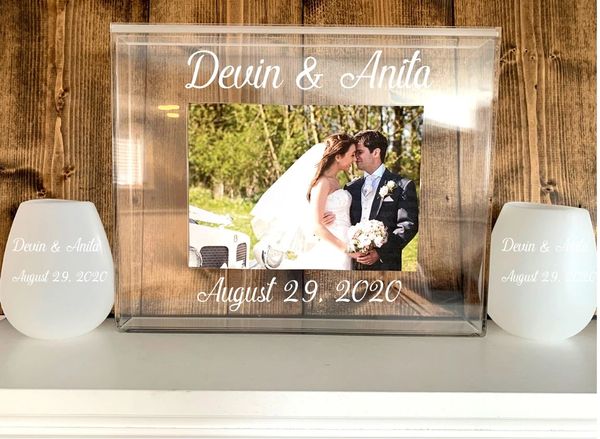 Custom Acrylic Sand Ceremony Unity Photo Frame and Silicone Wine Cups Set - Personalized Acrylic Unity Sand Ceremony Set with Two Sand
Are you attending a beach wedding and would love to have a non glass sand ceremony unity set?  This set is all non glass, the all acrylic photo frame and sand ceremony box will feature a 5x7 photo area and one large chamber for pouring of the sand.  The acrylic photo frame and sand ceremony box will feature two silicone wine cups that you can use for pouring of the sand, the silicone cups come in many colors, white, blue, green, orange, pink and purple.  This set also comes with two boxes of colored sand in your choice of colors.
Acrylic Sand Ceremony and Photo Box Frame Wedding Gift Sand Ceremony comes with your choice of two sand colors, please refer to the color sand chart on the listing for assistance on selecting your colors. 
This acrylic sand ceremony and photo box will feature two areas for custom engraving, at the very top, bride and groom names, and the bottom for the wedding date, select from many stylish script fonts, add a wedding art image if you like, the wedding art image will appear as shown on the listings unless otherwise indicated to us.  If you require a proof please request this in the last drop down box on the listing, and provide your email to us on the order, thanks.
Do you need additional sand for your acrylic photo box and sand unity set?  We offer many types of crystal sand in our store, you may view our sand colors and order your crystal sand here!
Materials: Acrylic, 100% silicone (all non glass materials)
•29" W x 24" H x 4" Thickness
Reviews