Custom Acrylic Keepsake Shadow Photo Frame Box Set with Silicone Wine Cups - Custom Acrylic Non Glass Unity Sand Ceremony Set with Two Sand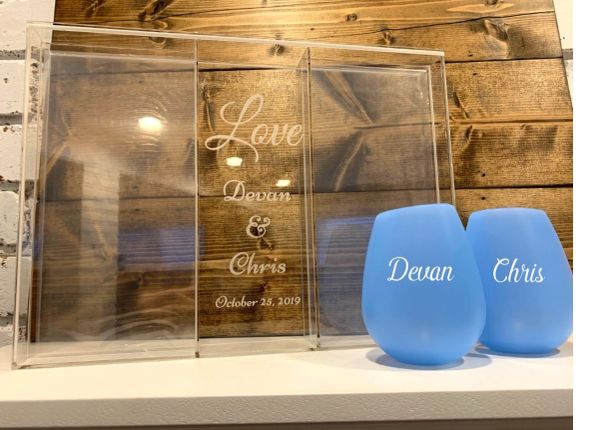 Custom Acrylic Keepsake Shadow Photo Frame Box Set with Silicone Wine Cups - Custom Acrylic Non Glass Unity Sand Ceremony Set with Two Sand
Are you attending a beach wedding and would love to have a non glass sand ceremony unity set?  This set is all non glass, the all acrylic shadow box will feature two chambers on each side, right and left you may add a photo or even something else memorable from your beach wedding.  The middle chamber of the acrylic shadow box will feature your two or more colors of sand, the set comes with the silicone wine cups that you can use for pouring of the sand, the silicone cups come in many colors, white, blue, green, orange, pink and purple.  This set also comes with two boxes of colored sand in your choice of colors.
Acrylic Keepsake Shadow Box Photo Frame Wedding Gift Sand Ceremony comes with your choice of two sand colors
This unique photo frame and shadow box and/or unity sand ceremony features not only a separate compartment for the bride and groom to fill with sand or your cherished keepsake,  but also two compartments designed to hold standard 4" X 6" ~ 10.2 cm X 15.2 cm photos. Simply place the photos between the two layers of acrylic provided and slide into position. Stylish etching will provide beautiful framing to complete the look. Following the wedding, this will make the perfect keepsake that can be displayed in your home and enjoyed for years to come. Customize with your choice of image, font style, own names, wording such as a short phrase or verse, and date.  
Materials: Acrylic, 100% silicone (all non glass materials)
•34.9 cm x 5.1 cm x 25.4 cm H
Reviews