36666 Blue Tower Optical Crystal Award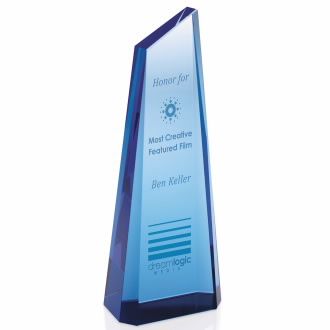 36666 Blue Tower Optical Crystal Award
tem #36666
Due to handmade production method, these pieces may vary slightly in height and overall size
Price Includes
deep etch, 1 location
Imprint
Deep Etch Front 1-3/4"w x 6-3/4"h , Standard
Deep Etch with Colorfill Front 1-3/4"w x 6-3/4"h 1 color(s) included 1 color(s) max, Optional, additional charge
Imprint Colors:
Screen Print
White
186 Red
876 Metallic Copper
877 Metallic Silver
Black
871 Metallic Gold
286 Blue
Colors displayed are for reference only. Colors on computer screens may vary based on the graphics card and monitor used with your system.
Product Dimensions
3-1/4"w x 8-3/4"h x 2"d
Product Colors
Product Materials
Optical Crystal
Additional Ordering/Imprint Info
Over 200 products have been selected from the BIC Graphic family of brands to support WWP. From January 1, 2016 through December 31, 2016, BIC Graphic will donate $2 per order on specially marked products.

Production Time
Standard :5 business days.
Packaging
Packaging: Gift-Boxed; Dimensional weight may apply.
Pack Of: 1
Weight: 4 LBS
Reviews