35838 Five Star Blue Optical Glass Award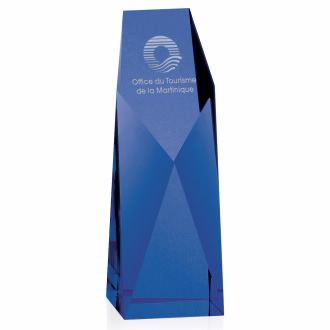 35838 Five Star Blue Optical Glass Award
Item #35838
Five Star Award in deep blue will be a standout for any desk or display case.
Blue optical crystal makes this award very popular
Price Includes
deep etch, 1 location
Imprint
Deep Etch Front 1-1/2"w x 2-1/4"h Irregular , Standard
Deep Etch with Colorfill Front 1-1/2"w x 2-1/4"h Irregular 1 color(s) included 1 color(s) max, Optional, additional charge
Imprint Colors:
Screen Print
White
186 Red
876 Metallic Copper
877 Metallic Silver
Black
871 Metallic Gold
286 Blue
Colors displayed are for reference only. Colors on computer screens may vary based on the graphics card and monitor used with your system.
Product Dimensions
2-1/2"w x 7-1/2"h x 2-1/2"d
Product Colors
Product Materials
Blue Optical Crystal
Additional Ordering/Imprint Info
Production Time
Standard :5 business days.
Packaging
Packaging: Gift-Boxed; Dimensional weight may apply.
Pack Of: 1
Weight: 4 LBS
Reviews