35040 Medici Clear Lead 24% Crystal Trophy Award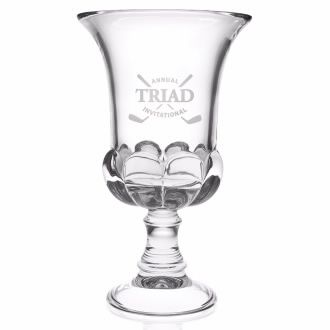 35040 Medici Clear Lead 24% Crystal Trophy Award
Item #35040
From designer Mario Cioni, this 24% lead crystal trophy will be proudly displayed with your ad.
Signed by Italian designer Mario Cioni
Price Includes
deep etch, 1 location
Imprint
Deep Etch Front 3-1/2"w x 2-7/8"h , Standard
Deep Etch with Colorfill Front 3-1/2"w x 2-7/8"h 1 color(s) included 1 color(s) max, Optional, additional charge
Imprint Colors:
Colors displayed are for reference only. Colors on computer screens may vary based on the graphics card and monitor used with your system.
Product Dimensions
7-3/4" dia. x 13"h
Product Colors
Product Materials
24% Lead Crystal
Additional Ordering/Imprint Info
For products going to California, a Prop 65 label will be applied per item free of charge.

Production Time
Standard :3 business days.
Packaging
Packaging: Gift-Boxed
Pack Of: 1
Weight: 12 LBS
Reviews