31315 Sleek Dual Power Calculator with Acrylic Keys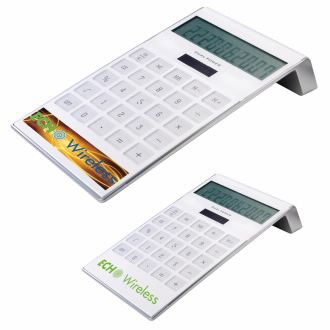 31315 Sleek Dual Power Calculator with Acrylic Keys
Item #31315
10-digit dual-power calculator with acrylic keys
One-touch, easy operation plus all basic functions
Button cell battery included
Price Includes
1-color imprint, 1 location
Imprint
britePix® 1-Color Front Lower 3-3/4"w x 1"h 1 color(s) included 1 color(s) max, Standard
britePix® Full Color Front Lower 3-3/4"w x 1"h , Optional, additional charge
Imprint Colors:
Screen Print
116 Athletic Gold
1545 Brown
186 Red
211 Pink
281 Navy Blue
327 Teal
355 Green
Reflex Blue
114 Lemon
1345 Cream
172 Orange
205 Magenta
208 Burgundy
2587 Purple
316 Dark Teal
424 Charcoal Gray
White
293 Royal Blue
341 Forest Green
Black
202 Maroon
Process Blue
Colors displayed are for reference only. Colors on computer screens may vary based on the graphics card and monitor used with your system.
Additional Resources
Product Dimensions
4-1/16"w x 7-1/2"h x 1-1/2"d
Product Colors
Product Materials
ABS (Acrylonitrile Butadiene Styrene) Plastic
Additional Ordering/Imprint Info
Production Time
Standard :5 business days.
24 Hour :1 business days.
Packaging
Packaging: Boxed
Pack Of: 50
Weight: 25 LBS
Reviews